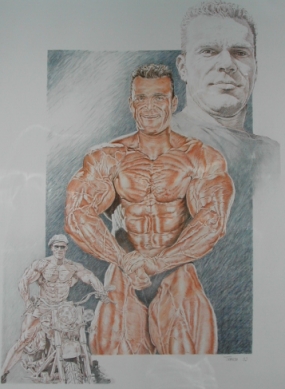 Drawing specialy made for Siggi by Francis Lambillotte
Saturday at 10.45 we left with the bus. At 12 pm we passed a Mc Donald's hamburger restaurant, there was a lot of reaction in the bus ;-)
After all the athletes were weighted and categories were specified, the waiting started. Doors opened at 3 pm and the contest started at 5 pm.
The contest started very well with the 1st place of Frank Cuppens in the Nationals I Youth Cup. After the first victory, the second followed. Pascale Seels and Martine Van Reusel took the 1st and 2nd place in the Body Fitness "Open". Joel De Meyer was very happy with his 1st place in – 80kg. This time it was a very good contest for Hans Dijckmans, 1st place in – 85kg, last week he was al little bit disappointed, because he was not nominated, but that was fast forgotten this week. In the category – 90kg the 3rd and 4th was for Bart Cuppens and Nico Lenaerts. For the category + 90kg DO IT was represented by Kurt Roelans and good for the 1st place.
The guest acts by Siggi and Ilja Vermeerbergen where a nice end of the day.
At 12 pm the bus went back to home.
Complete results

Women

Body Fitness "Open"




1st. Pascale Seels
2nd. Martine Van Reusel

Men

Nationals I Youth Cup




1. Frank Cuppens
2. Bart Van De Perre
3. Tim Willems


- 80 kg

1. Joël De Meyer



1. Hans Dijckmans


3. Frank Cuppens
4. Nico Lenaerts
Honey Meersman – not nominated

1. Kurt Roelans
2. John Valk

5. Didier De Schryver
Marc Gilis – not nominated